Lucknow: The Election Commission has fixed October 21 by announcing by-elections for the 11 assembly seats in Uttar Pradesh. It is important to note that by-elections to 63 assembly seats in eighteen states will be held on October 21 along with Maharashtra and Haryana assembly elections and the results of these elections will be made public on October 24.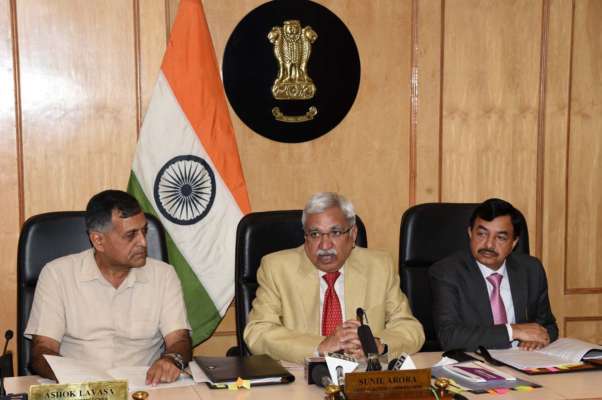 As soon as the date for the by-elections has been announced, the code of conduct has been implemented in these constituencies. The notification for the by-elections will be issued on September 27, while the party nominations will be filed by October 4. The papers will be checked the next day and the last day for names will be returned by October 7.
By-elections will be held in Jalalpur, Pratapgarh, Rampur, Lucknow Cantt, Gangoh, Mankpur, Balya, Aglas, Zaidpur, Tundla and Ghosi constituencies in the state. These seats will be cast on October 21 and the results will be held on October 24. There will be an announcement.
Except for the Rampur and Jalalpur seats, all the seats were occupied by the BJP. Rakesh Pandey from Rampo Azam Khan and Ambedkar Nagar have been elected to the parliament. The seat has been vacated due to the appointment of Bhagwan Chauhan, a member of the assembly from the Ghosi seat in the district. In addition, a by-election will be held on September 23 in the state's Hameerpur seat, for which the election campaign will end at 4 pm this evening.
By-elections on October 21 to 63 Assembly seats in eighteen states
Chief Election Commissioner Sunil Arora made this announcement at a press conference here on Saturday while announcing the assembly elections in Maharashtra and Haryana. He said voting for the by-elections on 63 seats would be held on October 21 and counting of votes would be made on October 24. The notification for the elections will be issued on September 23 and the last date for filing nomination papers for these seats is September 30 and the names can be withdrawn by October 3.
These seats are 15 in Karnataka, 11 in Uttar Pradesh, 5 in Bihar and Kerala, 5-4 in Punjab, Gujarat and Assam, 3 in Sikkim, 2 in Himachal Pradesh, Rajasthan, Tamil Nadu, 2, Chhattisgarh, Arunachal Pradesh. , Madhya Pradesh, Meghalaya, Odisha and Telangana. There will also be a by-election on a seat in the central area of ​​Puducherry.